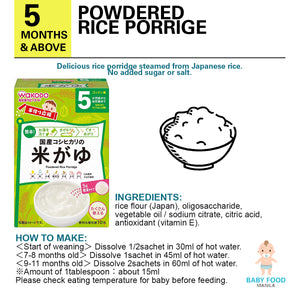 Delicious rice porridge steamed from rice. You can make soft and puffed up rice porridge by just adding hot water.
INGREDIENTS:
rice flour (Japan), oligosaccharide, vegetable oil / sodium citrate, citric acid, antioxidant (vitamin E).
【NET WEIGHT】 5g×10
_________________________________________________________________________________________
HOW TO PREPARE:

<Start of weaning> Dissolve 1/2sachet in 30ml of hot water.
<Around 7-8 months old> Dissolve 1sachet in 45ml of hot water.
<Around 9-11 months old> Dissolve 2sachets in 60ml of hot water.
※Amount of 1tablespoon : about 15ml
Please check eating temperature for baby before feeding.

Safe and delicious: Made from Japanese domestic jasmine rice, Wakodo promises never use articial flavors, pigments or preservatives.
Easy to digest: It is rich in a variety of essential nutrients for baby's growth, and more importantly the fiber is specially made for baby, which can greatly prevent food from upsetting baby's digestive system.
Independent packaging: The neat package is not only safe and hygienic, but also very easy for mom to carry. It only takes seconds for the power to dissolve into porridge, and the delicate amount of each packages is just right for the little one to have for a meal.