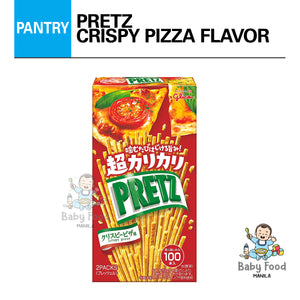 These thin Pretz have a crispier texture so they really snap when you bite them.

In fact there are 100 sticks in the box! Seasoned with a saucy and herb pizza flavor, these will surely be a hit. Would be a great snack with any cold beverage. The thin sticks measure about 10 cm.

Box contains 55 grams foil wrapped bag of sticks. Limited edition! 

Satisfy your pizza cravings with these extra crispy stick-shaped biscuits! Each piece is packed with fragrant flavors of cheese, tomato sauce, and herbs.